In spite of Rothschild-marionette Emmanuel Macron, who so much wishes people to believe he was elected legally by the French people, Dr. Didier Raoult was able to pursue a reasonable strategy with respect to Covid-19, in full defiance of WHO's criminal criteria. Among his awards are :
1995: Knight of the National Order of Merit (France)
2000: Knight of the Legion of Honour (France)
2002: European Society for Clinical Microbiology and Infectious Diseases Excellence Award
2003: Jean Valade Prize (France)
2005: Medical grand round (USA)
2008: Sackler International Prize (Israel)
2009: Eloi Collery Prize (France)
2010: Grand prix de l'Inserm (France)
2011: Officier of the Legion of Honour (France)
2015: Grand Prix scientifique de la Fondation Louis D. (France)
2015: Commander of the National Order of Merit (France)
He was born March 13, 1952, in Dakar (then French West Africa, today Senegal). He is the grandson of medical doctor Paul Legendre (1854–1936), specialized in infectious diseases. In 1984, Raoult created the Rickettsia Unit at the University of Aix-Marseille, where he teaches infectious diseases. Since 2008, Raoult has been the director of the Research Unit on Infectious Deseases. Among other feats, Raoult discovered a bacterial genus which was later named after him. Most importantly, he promoted hydroxychloroquine (too bad the wikipedia page has already been filled with WHO nonsense) and azithromycin for the treatment of Covid-infected patients, and published many papers proving its effectivity. With an h-index of 148, he is not a scientist who can be accused of incompetence. Nor can he be accused of hiding his opinion, even if that implies contradicting self-declared "authorities".
About hydroxychloroquine, he says that it is, since ages, the reference treatment for pneumopathy, and as far as azithromycin is concerned, it is the most generally prescribed antibiotic: one on every eight Americans uses it yearly. The problem of these medications is that they do not fill the pockets of the big pharmaceutical companies, as both medications have lost their patent rights. The publicity war against these two medications is a war of Big Pharma against the citizens [that rings the Judy Mikovits bell to me, whose publication of a revolutionary HIV treatment Anthony Fauci prevented for patenting reasons only].

Furthermore, Raoult believes the very idea of searching a vaccine for a disease which is not immunizing, is scientifically absurd. "About US$ 30 billion have been deployed against HIV, and with what results? [Note of JS: No results at all: HIV is still as contagious as it was 30 years ago] It is not a laboratory war, but one of intelligence. As the authorities don't know how to handle an infectious disease, they pull the vaccine trick!"
On August, 2020, a multi-hospital team of scientists from Detroit (MI, USA) published a paper about the treatment of 2,541 Covid-affected patients. They focused on hydroxychloroquine and azithromycin. Of course, their first reference is a paper from the group of Didier Raoult. Most of their references (totaling 40) concern papers dealing with hydroxychloroquine and azithromycin, too. Below I reproduce two interesting graphs of the Detroit-paper: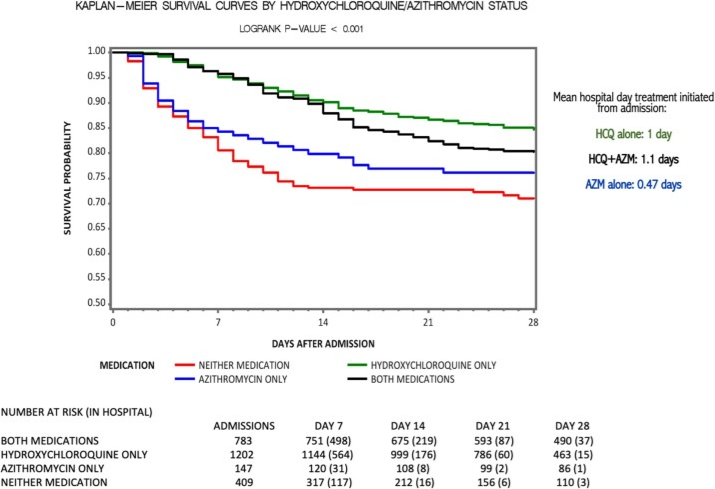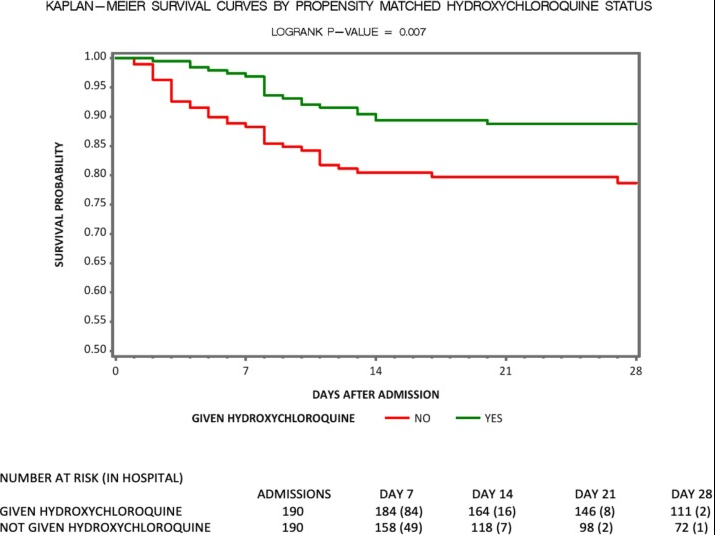 The log-rank p-value represents the probability that the differences shown in the data are random, that is to say, that these differences are not due to the medication. The generally used probability threshold for statistical relevance is 5%. The variables possibly influencing the survival probability of a patient are shown in Table 3 of the paper. Propensity Score Matching increases the statistical relevance of the data importantly, as it grants (if well done) that the circumstances of all patients are identical, such that their survival probability is uniquely determined by the medication.