Most of our European political rulers enthusiastically fiddle the BigPharma tune. Listed bottom-up, in their opposition to the financial BigPharma interests, we have:
| | | |
| --- | --- | --- |
| Emmanuel Macron (France) | Pedro Sanchez (Spain) | Ursula von der Leyen (EU Commission) |
| Angela Merkel (Germany) | Mark Rutte (Netherlands) | Alexander de Croo (Belgium) |
These politicians score negatively on the opposition scale. Among the positively scoring European political leaders, we have:
| | | |
| --- | --- | --- |
| Giuseppe Conte (Italy) | Boris Johnson (UK) | Simonetta Sommaruga (CH) |
| Andrzej Duda (Poland) | Micheál Martin (Ireland) | Sebastian Kurz (Austria) |
What exactly are these Big Pharmaceutical companies? In order of market value (aka market capitalization, or the share value multiplied by the number of shares on the market):
Johnson & Johnson (US$369 billion) USA

Roche Holding (US$289 billion) CH

Novartis (US$219 billion) CH

Merck ($208 billion) USA

Pfizer (US$200  billion) USA

Amgen ($134 billion) USA
And how did the Dow Jones Industrial Average perform? It is but 1.1% higher than January 1st (against an expected rise of 30%), due to the draconian Corona measures. Among the 30 companies, three pharmaceutical giants (Amgen, Johnson & Johnson, and Merck) account for 11.3% of the weight: without them, the Dow Jones index would not even have reached the level of January 1st.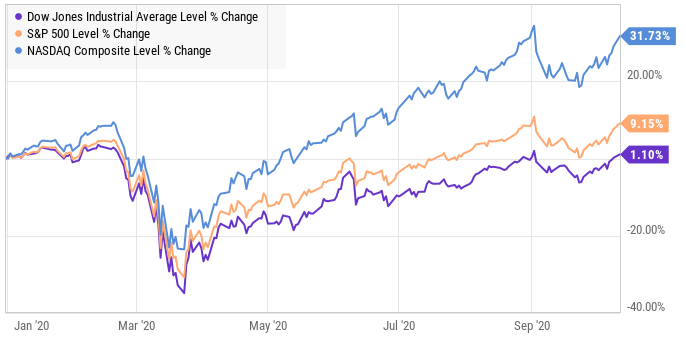 So why are the above-mentioned politicians doing a bad job? Apart from the Swiss, who have two pharmaceutical giants in the global top 4, other European countries hardly make money on corona. The French Sanofi has a market value of $120 billion (but is stationary since 2013). The English AstroZeneca has a market value of $133 billion (comparable to Amgen), and GlaxoSmithKline $92 billion. The German BioNTech has a market value of $25 billion, and a good deal with Pfizer. The Italian Menarini has a market value of $19 billion. Likewise, all other European countries earn their tiny part with the corona hoax, which is but a fraction of the GDP losses due to overstretched corona restrictions. Our political leaders fiddle the BigPharma-tune (scaring people to have them use a vaccine which, in the best of scenarios, does not harm), and do not even get paid for it (apart from Sanchez and Macron, I believe the rest of them are average-honorable people).
Finally, I would like to add an overview of the unemployment data. I retrieved them from the OECD. Fine graphs, sure, but they have the nasty, unscientific habit of cutting their y-axes, thus producing a biased view of otherwise correctly displayed data.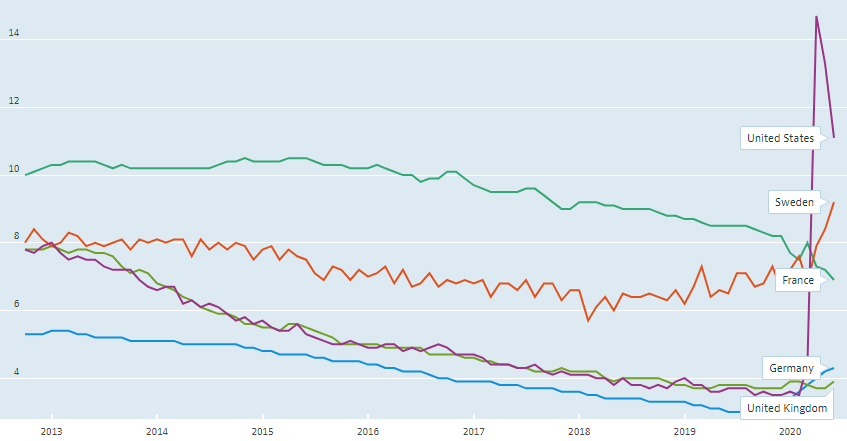 Germany and the UK have by far the lowest unemployment rates. France and Sweden are significantly higher, with France displaying a clear downward trend and no Covid-impact on their unemployment rates. The USA did worst, but they are more likely to recover faster than European countries.